Print Issue Reader Feedback form: 15.2 (Jan '13)
Posted on :

14th January, 2013
The CSO resigns – end of an era?

By Suman Rao

12th January, 2013
The CSO resigns The Chief Security Officer of IIT Bombay, retired Lt. Col. Jainendra Kumar resigned office for personal reasons on the 8th of January. At around 6pm on the same day, a committee constituting the Director and the Deputy Directors met. They issued resignation acceptance orders in the next...
Survey: Why don't we study at IIT-B?
Posted on :

2nd November, 2012
Why is it that most students don't study at IIT-B? We did come up with a few reasons but we need to know more to establish whether they actually affect the students' academics significantly. Based on your response, InsIghT plans to take up those issues that a large number of students describe...
Survey: Restriction on the entry of the opposite sex in hostels
Posted on :

28th October, 2012
What we shall now refer to as the 10-7 rule is one of those rules we take for granted. It's right there, and unquestioned in terms of its harms, benefits, relevance, and even where it came from. Insight makes an attempt to analyze whether it is a necessary rule in current circumstances, and whether...
Survey: Social Life at IIT
By Abhi Suri, Anamika Agarwal, Anant Kekre, Ayush Misra, Battula Chetan, Madhu Kiran, Manoj Reddy, Manu Sahay, Parth Loya, Yamini Bansal

27th October, 2012
I swear it by the old gods and the new, by R'hllor the lord of light and the drowned gods that I shall fill this survey with utmost honesty. It's completely anonymous. You are not required to provide any ID in this survey.
Interview with an IAS Officer – Mr. Ambrish Kumar, alumnus, IIT-B CSE 1996 batch
By Editorial Board

5th October, 2012
The exclusive interview with IITBBC: The full interactive session at FC Kohli: Credits to: Samwad – IITB Student Alumni Relations Cell (SARC)
IITBBC Exclusive: Pinaki & Serpents of IIT

By The Editorial Team

18th September, 2012
Catch Pinaki befriend and rescue the snakes on campus. Full Video: Trailer: Pinaki in the Wild
Guest Article: The IIT-Gandhinagar Chronicles

By Vinit, Sophomore, IIT-Gandhinagar

10th September, 2012
A sophomore from IIT-Gandhinagar chronicles his 2 years in IITB's mentee-IIT. Catch the in-depth coverage of IIT-Gn's student-life in InsIghT's print issue releasing just after the midsems! As I stepped through the gates of IIT-Gandhinagar for the first time over a year ago, I recalled...
The Flip Side: An Indian Safari

By Elyse Landry

31st March, 2012
It is rare that I go somewhere and leave inspired but the Taj Mahal left me awestruck. Even after sitting in front of it for a few hours I just didn't want to leave. Besides its pure beauty, detail, and grandness, the history of its construction for love is hard to believe. Last week my mother and...
The Flip Side: IIT vs. Rice University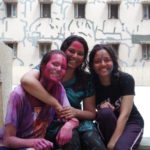 By Elyse Landry

11th March, 2012
I have been amazed how the academic systems and social cultures at Rice and IITB differ so greatly. It is not the content of the courses or the methods of teaching but rather the students that differ.  Students at IIT are much more relaxed and for them, academics do not always seem like the top priority....
Picture Story – Aman Day Care Centre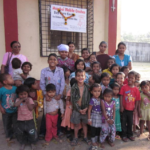 By Editorial Board

6th March, 2012
Team Aman shares with us a photo-story on the new Aman Day Care Centre! Location: The lake side community hall; soon to be shifted to a better facility near the infinity corridor. To read more on the issues of the construction labourers' children's conditions and the struggle of Team Aman...
AMAN ke liye IITB
By Editorial Board

3rd March, 2012
Three year old Aman was one of the brightest, naughtiest, most popular kids in his peer group. The son of construction workers working on campus, he often accompanied his parents to the work site. On the 5th of January, his 5-month pregnant mother was assigned to work on the 5th floor of the L4 building...
Teach for India: A Unique Experience
By ASHWIN KRISHNAN

3rd March, 2012
Why I Chose to Do it Mine was an extremely impulsive decision, which in hindsight, looks like an extremely good one. Basically,I had two options in my final year – study abroad or apply for a job through the campus placement process. Although when I entered IIT, even my aim was to do an MS/PhD...
The Flip Side: An Exchange Student's views about IIT Bombay
By Elyse Landry

1st March, 2012
I have always been one to explore; whether it be climbing the mountains of Alaska, conducting research in a leading university in Japan, or implementing water treatment systems in the middle of rural Honduras. When the opportunity to study abroad presented itself, I could not resist. I was intrigued...
IIT Bombay: Kal, Aaj aur Kal
By Vaibhav Tamrakar

13th January, 2012
IIT Bombay in 1958 A distinctive view about IITB and its life exists amid the student society of the 80s and today. It is very apparent that the situations and the resources available are very different, but it is human tendency to still venture into that line of comparison between the times then and...