Jan Lokpal: A brief summary
Posted on :

19th August, 2011
History and background The basic idea of a Lokpal bill is to tackle corruption at the higher echelons of power and to create a just and honest work culture. The idea is borrowed from the office of Ombudsman in Scandinavian countries, where an ombudsman is a person who acts as a trusted intermediary...
Wake up call – Abhi Suri
Posted on :

15th August, 2011
Tired of seeing status messages saying there has been no progress since 1947 and our problems will always remain the same. Tired of listening to people saying "Is desh ka kuch nahi ho sakta".  Tired of seeing all the scams of our own members of ruling party and tired of knowing the fact that all...
Gay @ IITB: Out and About
Posted on :

21st July, 2011
Hi! My name is H, and I am gay. I'm graduating this year (2011) with a B.Tech. in Engineering Physics from IIT Bombay. In a nutshell, this is my story as a gay student at IITB. The Pre-JEE Days For most gay people, coming to terms with the fact that you are gay itself is a painful, long drawn-out procedure...
Top 5 places to catch breakfast in and around IITB
Posted on :

19th July, 2011
Early mornings are known to IITians only post a night-out and there are perhaps many of us who have never seen the sun rise since our lives began here. However, by the end, you invariably would have trekked to the top of Sameer Hill at the crack of dawn and would have headed for the quintessential Maddu...
The Spirit of Mumbai
Posted on :

14th July, 2011
The views expressed in this article are those of the author and do not necessarily represent  the opinion of InsIghT. Yet another sad day in Indian History! Brings back memories. 26/11: The most condemned attack on India, talked on and on for days. In the aftermath of the attack, I came across...
Leisure Corner: April Fool – You or me?
Posted on :

30th April, 2011
Were you one of the 600 odd people who had filled in the World Cup Final Ticket form sent by the PRO? Have you been ridiculed by your friends for being so naive as to believe something like that? Here is news that will totally blow your mind! Ms. JJ from the PRO has recently revealed to InsIghT that...
IIT Hospital Improves?
Posted on :

30th April, 2011
InsIghT Follows Up The IITB Hospital has endeavoured to provide the best treatment possible for various ailments that the student community might suffer at any time. But it has been pointed out by the people who have visited the hospital that it lags behind in terms of the infrastructure and staff. Some...
Cricmania 2011
Posted on :

9th April, 2011
Along with the hysteria/hoopla/hullabaloo surrounding the Cricket World Cup which saw India thrash the most indomitable teams, Cricmania – IIT Bombay was launched for the first time. They could not have chosen a more apt time, as the World Cup frenzy coupled with the  zeal for cricket in students,...
April Fools' Day – 2011
Posted on :

1st April, 2011
This is not a publication by the InsIghT team. Authors – Asgerali Masalawala, Edul Patel, Mustafa Saifee, Rajat Chakravarty Open publication – Free publishing – More iit bombay
Tata Jagriti Yatra : A journey through India and my Inner Self
Posted on :

30th January, 2011
1 Train | 13 Destinations | 15 Role Models 18 Days | 400 Youths | 9000 kms What Jagriti Yatra is? It is a journey of 9000km with 400 youths in 18 days to awaken the spirit of entrepreneurship among the youth of India. Enterprise led development is at the heart of the organizers who believe that the need...
The Best of Gulmohar
Posted on :

28th January, 2011
For freshies, it is an occasional outing; for PGs, it is a place for having birthday parties when the canteen just isn't classy enough; for seasoned seniors, trips to this place are too common to be of any consequence. For MSc Chem/EP junta, two tables here prove to be enough for the whole batch to...
Insight Doodle
Posted on :

18th January, 2011
Christmas Doodle: Joyjeet Sarkar MidSem Doodle: Uttam Sikaria
Of Kapil Sibal, Convention Center and more!
Posted on :

8th January, 2011
Today marks a special day, not because it is Techfest Day 2 or because I finally saw 'No one killed Jessica', but because I finally heard from a man I have disliked for a while now- Kapil Sibal. Before I get to that, let me just put the word out that the new swanky Victor Menenzes Convention...
Election Spoof Video (2008)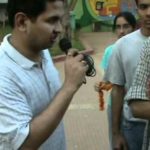 Posted on :

29th December, 2010
From Russia with Love
Posted on :

27th December, 2010
The Russian President Mr. Dmitry Medvedev was in town a few days back, ostensibly to inaugurate the new Convention Center. That we were already seated inside the Hall for two hours when he arrived was a different matter. The institute did its best to regale us and the Russian guests by showing us the...