IITB to Stanford to Munich – Pranjal Bordia's story (Career Series)
By -- as told to Rahul Maganti

28th November
The content on this app is strictly the property of InsIghT and the Students' Gymkhana IIT Bombay. Reproduction in any form of mass media is strictly prohibited.
Disclaimer: The views expressed by the interviewee are his perspectives alone and should not be taken as facts endorsed by InsIghT.

Chief Editors: Anubhav Mangal, Suman Rao
Mailto: insight@iitb.ac.in
With Placement season and Apping Season round the corner, InsIghT brings to you a new series, 'Career Series' which will capture the experiences of alumni who had been in your shoes. In the third article of the series, Rahul Maganti speaks to Pranjal Bordia. Following are excerpts from the interview.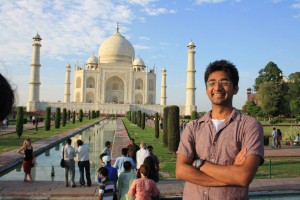 Short Introduction:
Pranjal Bordia,
MS at Stanford,
Pursuing PhD. at Ludwig-Maximilians-Universität München, Munich,
BTech, Engineering Physics, Class of 2011, IIT Bombay.
Factual Story – Chronology of events!
I graduated in 2011 with EP and decided to go to Stanford University for my Ph.D. because I liked Physics enough to do it and didn't really care about a job or work experience at that point of time.
So, then I went to Stanford. I did research in experimental quantum optics, theoretical solid state physics and quantum nanophotonics for the first 3 quarters. In the summer quarter, I decided that I would like to go on the East Coast for summers to see it. By chance, I had an internship offer in the east coast and I worked in an medical imaging start-up. It was a good experience to learn how new small teams can work to produce something substantial, but at the same time, it reassured me that I wouldn't like to work in a company as of now.
Back to Stanford. I had still not fixed my adviser at Stanford and I wasn't really liking anyone's research in Stanford much. I spent 3 more months looking but in the end, I decided to take a MS degree from Stanford and come back to Europe where I knew someone whose work I really liked. (I had interned in Europe). I emailed him. He said he would like to have me. So, I took an MS and came back to Munich, Germany.
Expectations out of Research – Stanford and Munich.
I wanted to have a great research environment and some field which I liked enough to work for my Ph.D. So, I took up admission into Stanford. But, due to the above mentioned reasons, I had to go back to Germany to continue doing something which actually interested me. Also, It was after attending lectures here, I realized how bad were the lectures both in IIT and Stanford. At the same time, the intensity of research here is really really high in the field of ultra-cold atoms, in which I work now.
Plans after Graduation in Germany:
No clue. Probably go to Canada/New Zealand for a technical job/post-doc. Maybe come back to India. Maybe stay in Germany. I don't know where I will be. I don't know what I will do. I have a couple of ideas but I'm not sure. Best things is, I don't have to know now and it doesn't make sense to decide now.
IIT experience:
I liked the place. I like the people. I think IIT has some of the brightest folks I've met.
I don't like that fact that Stanford exposed me to more "real" problems in India in 1.5 years through people and Stanford India Association than India did to me in 21 years. I also think, I did not work hard enough during my 4 years.
The cities where you lived:
Munich, Germany:
I love the public transport, seasons, people, the possibility of cycling in the whole of city, the closeness of so many historic places in Europe, English Garten, Icebach, Oktoberfest, Christmasmarkets, Springfest and what not. And everything is 10 minutes away and you don't need to own any motored vehicle.
Stanford, CA:
Loved that we lived on campus with lots of students around. The facilities on campus made it really comfortable to live. Met some of the brightest and very very hard working clear individuals.
A typical day:
In Germany:
Weekdays: I get up in the morning, normally talk at home, get ready, go to work. Come back at night. Find time for language classes, exercise in between.
Friday night and weekends: Either we go to a fest, bowling, kicker, to some party, gathering or we make our own, invite people and have fun. Revise language lessons, make plans to travel a different city in coming weekend/extended weekend, cycle in the city, find new cafes and places in the city, cleaning home, washing clothes, etc.etc.
If you are given a chance to go back to your placement time, would you still choose to go for higher studies?
Yep, I don't see why I would not go for higher studies.
Thanks a lot for the Interview. InsIghT wishes you all the very best for your future.
Thank You!